I started playing guitar and in bands at around 13 years old. I played my first show in 2003 at the age of 14.
Since then I have searched far and wide for the best gear which enables me to get the sound I want/need for the projects I am involved in,
and some stuff for ease of travelling, and some just for fun!



Equipment:


This set up depends on what project I am performing with, but for ROADWAY both live and in the studio, and other rock based projects this is more or less what I use
Guitars:
Schecter Hellraiser Solo-6
Schecter S-1 Elite
Amps:
Blackstar HT5-R Valve Combo amp

For Larger shows I sometimes take a half stack set up:
Marshall MG100HFX
Marshall 2x12 Extension Cab / Marshall 1960-TV 4x12 cab

Pedals:
Blackstar HTDISTX valve distortion pedal - (if I'm not able to take my amp with me to gigs this pedal is a perfect substitute)
Behringer Chromatic Tuner
Memory Toy Analoge delay
Vox Wah pedal (I don't use this in my current live set up)




---

Guitars:
Guitars are a real passion of mine, I tried to search as hard as I could for what best suited me rather than simply lunging for whatever's
popular or the biggest price tag.
Below is some information on each of the guitars I own, and hopefully soon I'll manage to get pics up of them all.

Schecter S-1 Blackjack, This guitar was the reason I switched to Schecter from Cort. I was given it in 2009 by a friend as a gift, and although I wasnt sold on the look of it right away, the sound and feel of it instantly made it a favourite of mine. I use this on nearly all my live shows and for nearly all recordings I've done in the last year. - Sadly this guitar was destroyed in the car crash in May 2012.

---

Schecter S-1 Elite, I bought this in the winter of 2009 in Glasgow, I loved my other Schecter so much I wanted to look for a 'backup' one for live shows incase I had to switch etc and this guitar has slowly turned into my 1st choice for gigs. This guitars' look I think is the most striking part of it, and I think its the best looking guitar I own. Plays great as well but has a slightly thicker neck than the other schecter but still a favourite of mine also. I used this on nearly all of the ROADWAY EP.


---
Schecter Hellraiser Solo-6. Schecter very kindly gave me this guitar following the horrendous car crash in May of 2012 that as well as the horrific injuries Bod and myself sustained our gear was destroyed, this included my Schecter s-1 blackjack. This is a terrific guitar, it has very loud and crunchy EMG Active 81tw/89R pick ups which suit the ROADWAY stuff so well. I'm a big fan of this guitar, not just for how it sounds and looks but for what it represents, faceless kindness and a great gesture by Schecter.


---
Cort G260B, this guitar I got in 2004, and was the first guitar I bought with my own money. I used this religiously from 2004 until 2009 when I switched to Schecter. This guitar is just brilliant in every respect, has a great look, its light, plays great and versatile for nearly all kinds of project. I used this to record the lead parts and solo for the song "This Is Why" with Rainbow's Doogie White.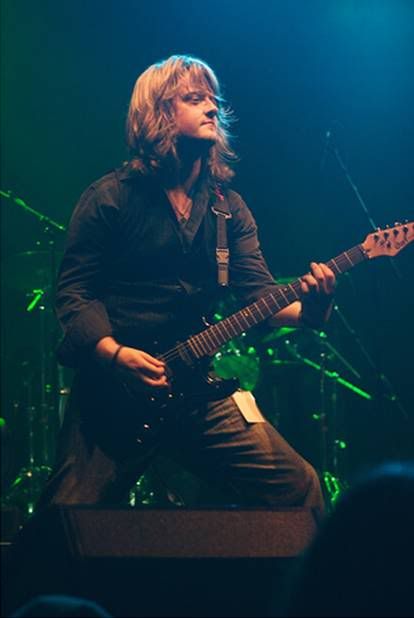 ---

Cort Hiram Bullock Signature model, I bought this guitar in 2008 just prior to a big competition show at the Ironworks Inverness Ketimine Deco were doing for the chance to play the Belladrum Festival. I love the look of this guitar most of all. It has a real sharp tone to it and its great for clean parts. Light and has a real thin neck, I used this as my 2nd guitar for all the Ketimine Deco shows 2008/2009.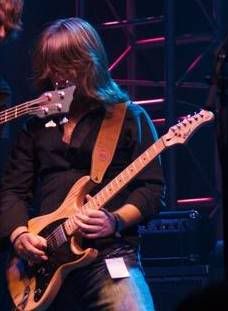 ---

Fender American Deluxe Stratocastor, well...this is my pride and joy! I bought this guitar in easter 2007 in New York City. I had just done my first big recording session in Scotland before hand so I used the money I made from that to buy this guitar. It took me a whole day of trying guitars in the "Sam Ash" music shop just off Times Square to settle on this one. It looks great, can play any style on it, superb feel to it and it just a magnificant guitar.
What amazed me about buying this guitar was, as opposed to the way we buy guitars here in the UK, when I settled on the one I wanted, the sales guy in New York went through to the back and brought me a brand new one rather than simply selling me the one on the stand that I had been playing for...a few hours by then! They also put a "first chip" into the guitar neck, quite an odd custom and one I nearled fainted at!
I used this guitar on all of the "Father Father" EP, the headline performance i did at the Glasgow Garage with 'The Big Pink', and a few shows now and then.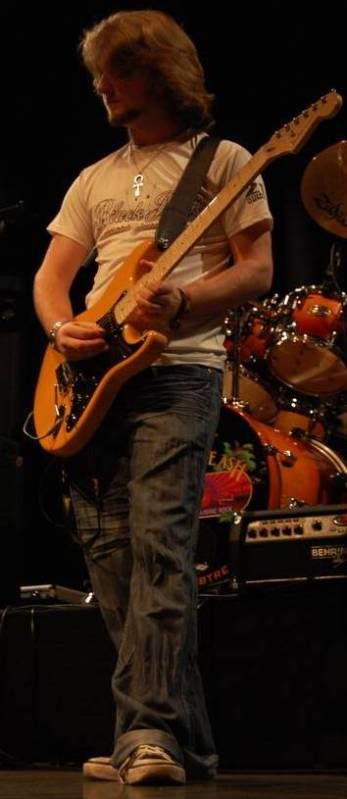 ---
AMPS:





Not a great picture but its the best one I have at the moment, this is my BlackStar HT-5R single speaker combo amp, this thing packs a punch let me tell you that!! Over the last few years I've grown very tired of huge and heavy gear so I wanted to size down and this amp was just perfect. It's the amp version of my distortion pedal, and at 27lbs is a great weight for a main gigging amp, and as you can see is very small. In this pic I was simply using the Mesa cab as a very expensive "table" to bring the amp to a good ear level.
This amp was also destroyed (almost) in the car crash. BlackStar kindly took the amp away and somehow managed to fix it totally, still got a few scratches but it's perfect I'd say. This will be my main amp for all future projects live and on record, thank you Blackstar!!